bean configuration (setter injection)
---
Resin configures beans using bean-style (setter injection) patterns, supporting the Inversion-of-Control design pattern. A "bean" is any plain-old Java object which follows standard configuration patterns. Because Resin can find the bean-style setters from looking at the class, it can configure those setters in a configuration file like the web.xml.
Resin's configuration follows the Assembly Line or Dependency Injection pattern.
The Assembly Line pattern gives configuration responsibility to the container where it belongs, while keeping the application code independent of the container. Bean-style configuration setters for simple properties form the foundation for the Assembly Line pattern. If an application follows the bean patterns, it can be configuration in any container following the Assembly Line (setter injection) pattern.
We strongly recommend following the Assembly Line pattern throughout an application, even if your application does not use Resin to configure itself. Following the Assembly Line pattern makes application code easier to understand, maintain, configure and test.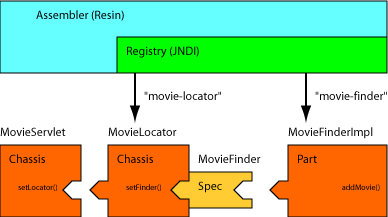 The bean configuration form the foundation of the Assembly Line pattern. Since most applications already follow the bean patterns, they get property configuration with no changes.
Each configuration parameter foo has a corresponding setter method setFoo with a single argument for the value. Resin looks at the class using Java's reflection to find the setFoo method.
Setter injection connects resources following the same bean-style setter pattern. Where bean properties configure simple values like strings and integers, setter injection configures other resources like databases and application components.
Resin uses JNDI to store the intermediate resources, e.g. storing a database in java:comp/env/jdbc/test. The configuration file specifies the JNDI resource using the JSP expression language and jndi.
Resources often act as containers for lists of values and map values. The addXXX pattern adds multiple values for a single property.
A setter method addFoo allows multiple values to be specified from the configuration.
Well-written resources will validate their configuration and may perform additional assembly tasks. Resin calls methods marked with the @PostConstruct annotation after all the setter methods have been called.
Beans can be nested, allowing a bean to have setters that have other sub-beans as the type.
The addText() method will capture the body of the tag for a bean setter.
There are some unusual cases where the configured bean is just a configuration object and you want to return a different bean. The bean can implement a method Object replaceObject() to return a different object. Called after the @PostConstruct.
The facilities provided by Resin make it very easy to read XML files. Java classes that follow the java bean pattern are defined to match the schema of the xml file.
---
Copyright © 1998-2008 Caucho Technology, Inc. All rights reserved.
Resin ® is a registered trademark, and Quercustm, Ambertm, and Hessiantm are trademarks of Caucho Technology.